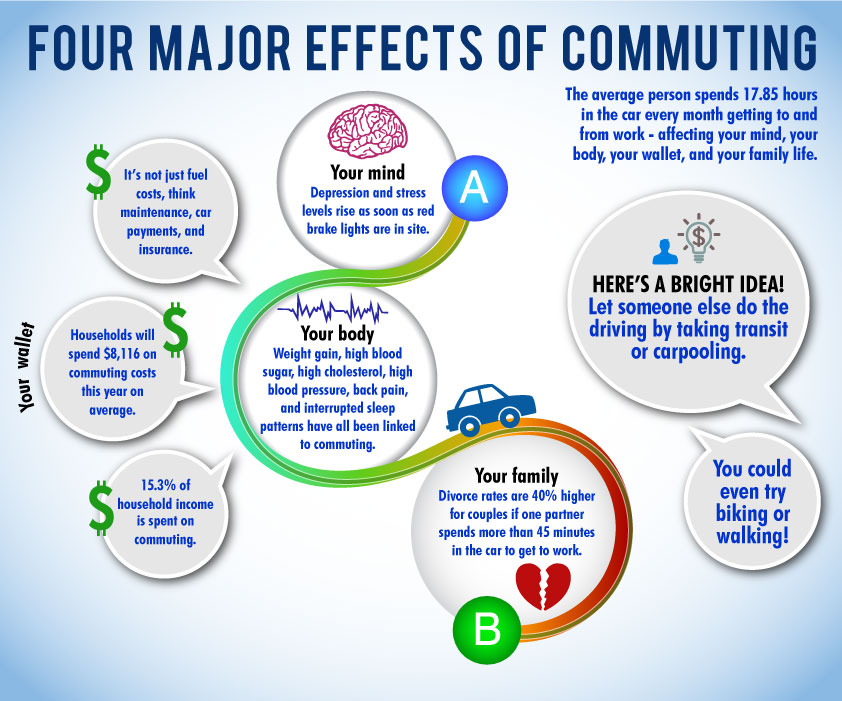 When it comes to commuting to work, the further you travel, the more challenges you might face. The average American commuter is spending 17.85 hours in the car per month according to the U.S. Census Bureau. Not to mention the financial costs involved – fuel, maintenance, insurance, car payments – it all adds up. We've put together our top four major effects of commuting so you can see just how your commute is impacting you.
YOUR MIND
When was the last time you were happy about sitting in traffic? Depression and stress levels rise as soon as red brake lights are in site. Worrying about getting to work or if the car behind you will stop in time can have a way of negatively effecting your day. Research has shown that driving more than 20 miles roundtrip to get to work can lead to anxiety and social isolation as well. It takes approximately one full hour to put a stressful commute behind you. So if you thought your commute was over once you opened the car door in your office parking lot, think again.
YOUR BODY
In a recent study published by the American Journal of Preventative Medicine, it was found that people using cars for their daily commute tend to gain more weight than those who do not. With over 86% of the American population using a car to get to work, this puts many South Floridians at risk. Additionally, in recent years, researchers have come to link commuting with negative effects on blood sugar, cholesterol, blood pressure, back pain, and sleep patterns which can be the source of a whole world of other physical problems.
YOUR WALLET
Gas, maintenance, car payments, and insurance can add up to hundreds and thousands of dollars per year. According to an article published by Stanford University, 15.3% of average household income is spent on commuting. So, if your household is bringing in the national average of $53,046, you're shelling out a whopping $8,116 per year to get to work.
YOUR FAMILY
A Swedish study reports that divorce rates are approximately 40% higher for couples if one partner spends more than 45 minutes in the car to get to work. This may not be surprising considering less time is spent with your family if you're spending all that time in the car. Breakfast, dinner, homework, playing, and bedtime stories may suffer the crunch.
With these challenges, you might feel like it's in your best interest just to stay home. Don't worry; you don't have to quit your job just yet. You've got options.
Carpooling, taking transit, bicycling, or walking are all feasible ways to ease your commute in South Florida. Whether you do it every day or just a couple times a month, ridesharing can cut gas prices  and lead to commute savings. So before you head out to work tomorrow morning, think about the alternatives to driving alone and if one of them could work for you. You'll save your body, mind, wallet, and family some unwanted stress!
Want more information on your options? Visit 1800234RIDE.com.