Teleworker Certification
Being able to work–and manage–from anywhere, anytime requires essential skills, the right technology, focused flexibility, exceptional planning, and excellent communication skills. Without proper preparation, planning and skills, working away from your team could leave you isolated, out of touch with your team, at odds with your manager, and, well, left out. It doesn't have to be like that.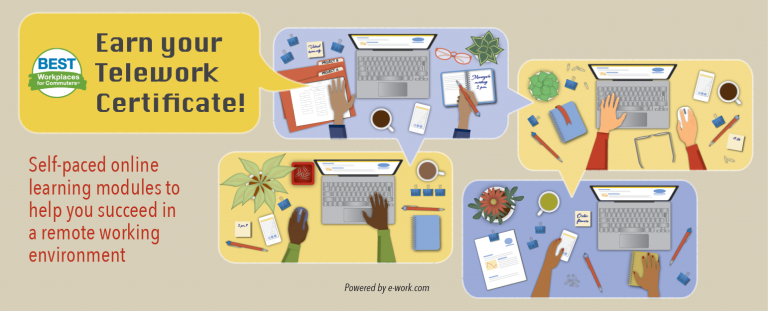 In partnership with e-work.com and Best Workplaces for Commuters, we are pleased to offer a five-part Teleworker Certification Series to help managers and teleworkers stand out in a crowded digital workplace. Certification shows that you are trained to stay organized, to accomplish more, to work more efficiently, to communicate better, to perform as a team contributor, and that teleworkers know how to remain "visible" while away. Teleworkers will also learn to set up the ideal home office, how to better balance their work and family life, and how to recognize the telework pitfalls and ways to avoid them.
Managers of teleworkers will learn how to manage a high-performing, productive distributed team in today's highly mobile work environment. Managers will be provided with the skills, knowledge, tools, resources and best practices for managing a distributed team.
The training is available for free to South Florida businesses and organizations.
Please complete the form below to request one South Florida Commuter Services' online Teleworker Certification program license.
Frequently Asked Questions
What modules are included in the coursework?
• Managing a Distributed Team
• Working on a Distributed Team
• Mobility Best Practices
• Working in a Home Office
• Negotiations at a Distance
How will I receive my certificate upon completion?
Your certificate is provided to you electronically after you complete all the courses.
One seat/license is available at no cost to South Florida businesses and organizations. The seat/license may be used by any member in the organization. Upon completing the short program, if you find it to be valuable, all we ask is that you share your thoughts with us on the program, and we will be happy to consider your request for additional seats/licenses to the Teleworker Certification training.*
*While supplies last